In this section, settings can be configured for the listing, individual price lists, realtime and the order function. The configuration of these eServices requires the 'eService Administrator' platform right.
These settings are valid for all partners on the ITscope platform.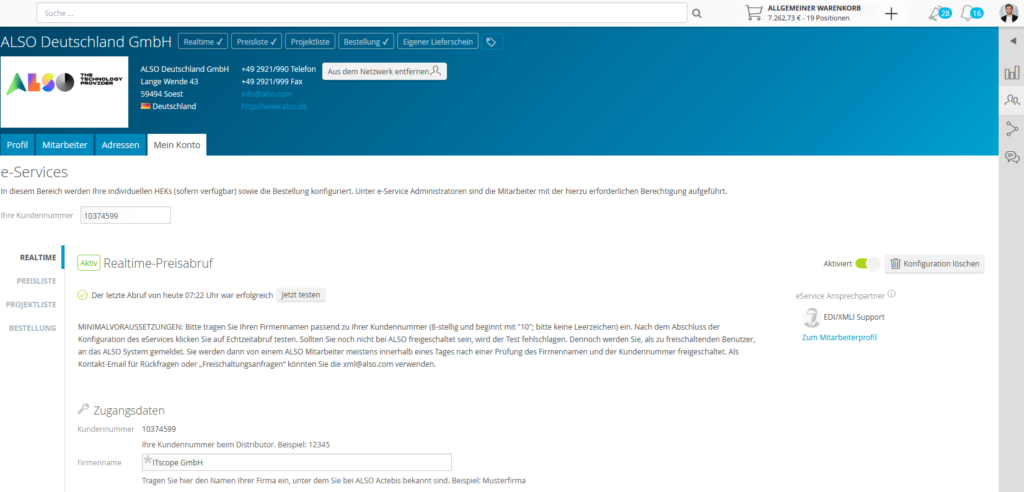 The eServices Admin tab is divided into the eServices that you provide as a supplier.
These can be the following categories:
Realtime (optional – if offered by you)
Price list (optional – if offered by you)
Project list (optional – if offered by you)
Order (standard tab for distributors)
Different contact persons, settings, instructions or default values for your customers can be provided in these respective tabs.

Realtime / individual price list / project list
Here you have the option of entering a contact person and describing the eService for your customers (field: 'Instructions for this eService').
Provide instructions on how your customers can best obtain access details, how the price lists should be configured and where these price files are saved.

Order
In the order section, we would like to draw your attention to the underlying settings and the mandatory fields email for orders and ordering conditions.
Regarding the underlying settings (4), the following options can be configured:
Emails for recipients of orders
Ordering Conditions

Suppliers must define their standard values for shipping costs, flat rates, insurance, surcharges, minimum order values and other costs. These values can be overwritten individually by the customers.
In general, the net shipping costs that you configure in eServiceAdmin only serve as guidelines for customers when placing orders.
You as the distributor charge the customer directly and individually at the time of order processing (possibly depending on weight, dimensions, shipping method, shipping location, etc…).
with various settings such as partial delivery possible, you determine whether the customer has the option of sending the order as a partial delivery.
with various settings such as own delivery note possible, you can specify whether the customers have the option to have these delivered to the end customers with their own delivery note when placing the order.
The information on the "Net minimum order value" only serves as a warning for the end customer when ordering. If the end customer does not reach the minimum order value, this warning is displayed, but he can still place the order.

Various links to delivery conditions, RMA, shipping with own delivery note
Orders for companies without a customer number
Time until which orders are accepted for next day delivery.
Customers may only order items listed in ITscope
Here it is important to set your offered services correctly so that our common customers can place partial deliveries or orders with their own delivery note.
Without correct settings, the corresponding order functions are only partially available.
As a distributor, you can then reject the order or consult with end customers at any time.