When ordering certain product families or hardware, it may be necessary to provide additional information for a line item. This helps the distributor to process the order faster and without additional questions.
Currently, this involves the following cases:
For the product families of ESD, licences and services, an end licensee must always be specified.
For Sophos hardware products, it is recommended to specify an end licensee.
With the distributor TechData, further contract parameters must be provided in addition to the end licensee when ordering certain products.

For Adobe licences, the end customer and reseller membership ID must be specified.

For service products (carepacks) from manufacturers Microsoft, Dell and Lexmark, the date of purchase and the serial number of the hardware must be provided.

For CSP orders placed with the distributor Ingram Cloud, additional account information for the end customer must be provided for all products.
It is possible to specify an end licensee address for each order line item. This can either be newly created or added from the address book/delivery address. The end licensee details include the licensee's surname, first name, email and address, as well as a customer number.

End licensee or contract parameters for order line items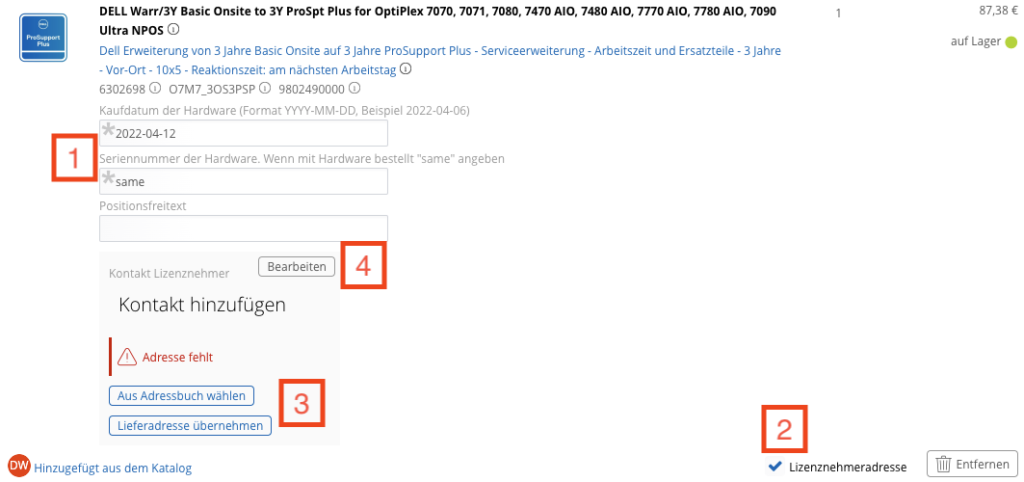 The first two fields are additional parameters that must be specified for certain products with the distributor TechData. These fields may differ depending on the manufacturer and product family. The description for the field will indicate what information must be provided here.
If an end licensee must be specified for the product or if you have activated this option for the line item, you will see the section for the end customer contact next to the line item.
With the 'Select from address book' button, an address from the address book can be entered as the end customer contact. The 'Use delivery address' button can be used to directly enter the delivery address as the end customer contact.
The 'Edit' button allows you to edit all fields of the address and contact information.