The text and conditions shown in the quote are, by default, taken from the company-wide settings and can be customised with individual entries (1). Use the preview mode (2) to view the quote. This mode can also be used to generate a printable PDF of the quote. Next to the preview mode you will find the option to send the quote to the customer via email (2).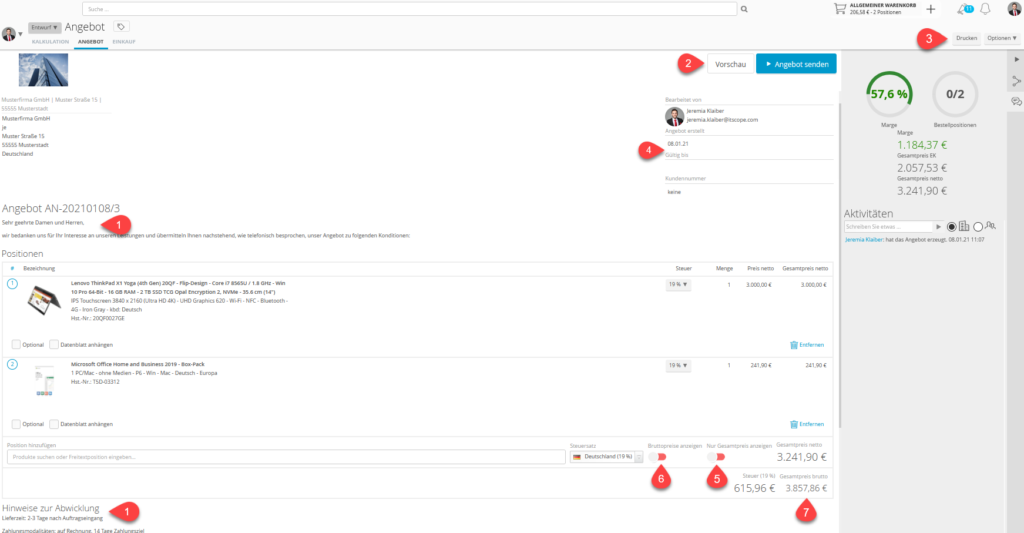 A PDF document can be created using the Print button (3), based on the company-wide settings (such as the company letterhead).
Use the Activities section to see who is working on the quote, when it was created and, if desired, you can also set an expiration date for the quote (4).
When viewing the quote, it is possible to either show or hide the total price (5).
If you want to send quotes to private customers, you have the option of switching between showing gross or net prices (6). After activating Show gross prices, the prices are displayed including VAT, i.e. as gross prices. The total price is displayed as Total price net.
When displaying net prices, the total price is displayed as Total price gross (7).

The items in the quote can be optimised and procured in the Purchasing tab, similar to the purchasing board.