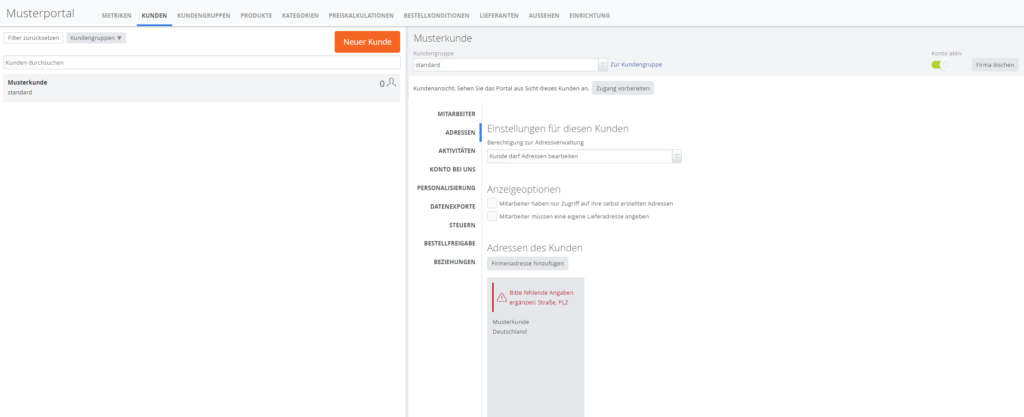 The Addresses section allows you to define user permissions regarding the address management of your customers. Following options are available:
Customer is allowed to edit addresses
Customer may edit and select delivery addresses (invoice addresses blocked)
Customer may select delivery addresses (can only select addresses that have already been defined previously)
Block addresses for customers (your customer cannot arrange delivery to their home office!)
The first option allows your customer to create new addresses and manage existing ones. This option must be selected if you want your customer to be able to choose to have deliveries sent to their home office, for example.
The second option allows the customer to edit and select delivery addresses, while keeping the customer's invoice addresses fixed (cannot be edited by the customer). This ensures that only the customer's invoice address defined by you can be used.
With the third option, your customer has the option of selecting the delivery address from existing addresses that have been defined by you as the portal operator.
With the fourth option, the customer has no possibility to edit his/her addresses. Only you, as the portal operator and administrator, can manage delivery and invoice addresses.
Please note: with this option activated, the customer cannot provide a varying delivery address, so home office equipment, for example, cannot be directly delivered to employees' homes.
Furthermore, the checkboxes below the dropdown menu can be used to define what is shown to your employees.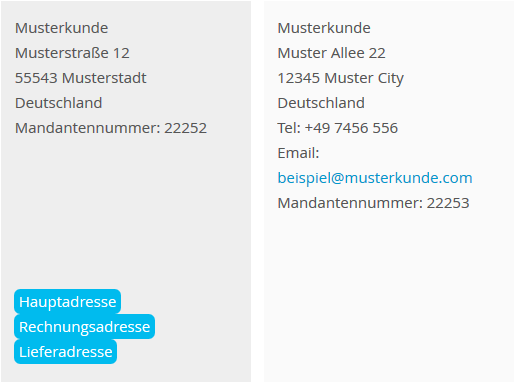 For the stored customer addresses, the corresponding labels show which address is currently used as the standard main-, invoice- and delivery address. Each additional address can be assigned as the new standard invoice or delivery address. It is possible to differentiate between different company branches with the client number.