The product selection defines the rules for determining the products to be exported.
Overview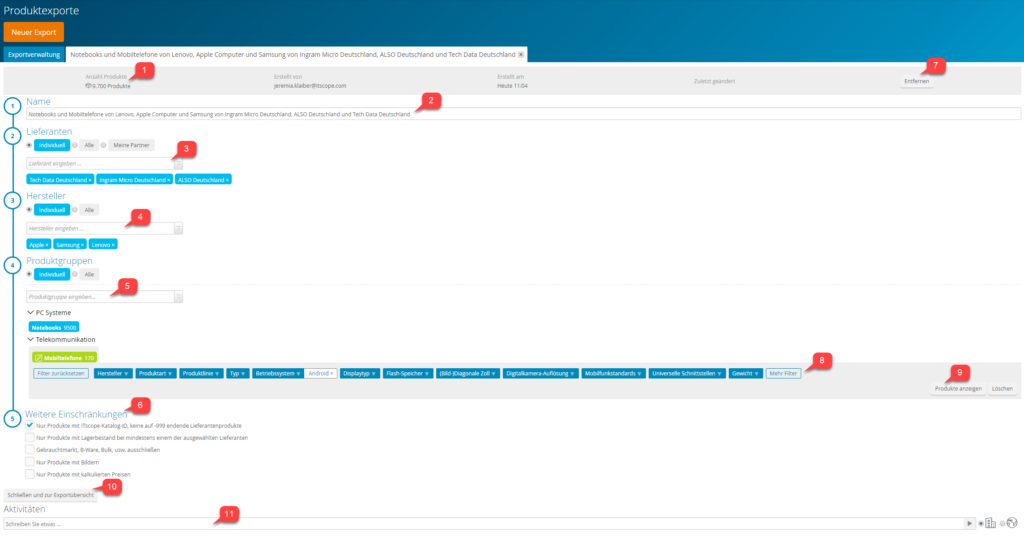 The grey-coloured header area provides basic information (1) regarding the product selection. Clicking the title will open the editor. The name of the product selection (2) is generated according to the settings of the product selection, but it can also be edited. The configuration page is divided into the categories supplier selection (3), manufacturer selection (4), product group selection (5) and further restrictions (6). This product selection definition can be deleted (7) in the header bar if it is no longer needed.
When selecting products, please take note of the product export limit.

Supplier selection
In order to determine the products to be exported, the desired suppliers first have to be selected. If you want to include all partners of your company in the export, you can use the 'My partners' option. Individual suppliers can also be added via the selection box. The incorporation of all suppliers is also possible, but is not recommended.

Manufacturer selection
If only certain manufacturers are to be considered for the product selection, then a filter can be set here. Individual manufacturers can be added via the selection box. If you do not want to filter the manufacturers, you can select the 'All' option.

Product group selection
The product groups to be considered for the export can be selected individually. Alternatively all of them will be considered. If the groups are to be selected individually, at least one product selection must be made.
Clicking one of the selected product groups will open the filter bar (8), which can optionally be used to further limit the product range. The operation of this filter is similar to the operation of filters in the ITscope product search. The 'Show products' button (9) opens a product search in a new browser window, listing the products associated with this group.

Other restrictions
In addition to the already defined selection criteria, the set of results can be further restricted by switching predefined quality criteria on or off. Please refer to this support article for further information.

Finish editing
To close the editor and return to the export definitions, either click the corresponding button (10) or close the editor tab.
At the bottom of the editor you can find the activities section (11) for the product selection that is currently open. Here you can also store notes or comments.