The Dashboard acts as the homepage for the platform, and is your first port of call on ITscope. All important functions and account information are available at a glance, giving you the opportunity to work faster and more efficiently.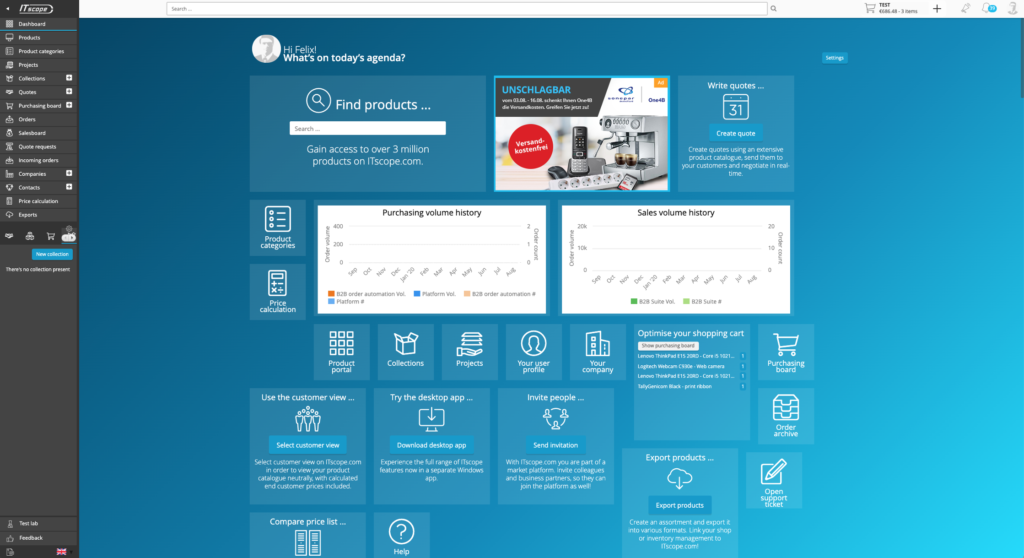 Supplier accounts that have not yet been fully set up are displayed on the dashboard. Supplier access data can be added with one click, allowing individual and real-time prices to be set up with the supplier, meaning you will always be able to see the best price made available to you.
The product portal can be accessed via the corresponding tile, allowing you to search for products according to category, as well as to browse offers, top products, or your favourites.
Distributors can now easily access the distributor comparison report via the dedicated tile. Obtain an extensive Excel spreadsheet with one click, enabling you to compare your product assortment with other suppliers, giving an insight into the current market conditions. *
Do you have any questions regarding the product? Feel free to use the corresponding tile to open a support ticket with your message, quickly and conveniently. Our customer support team will then contact you promptly to resolve the ticket.
* The Distributor Comparison Report and the corresponding tile is only available to suppliers with an active distributor listing.