In the portal
In the registration section, you are able to provide your customers' new employees with a registration link for the B2B portal.

Activating the employee registration feature eliminates the need to manually add employees to customer portals, as these employees are able to register themselves using a registration link. It is then possible to register via the home page of your portal.
In order to make sure that not just any person with a registration link can register in your customer's portal, the email address of the potential user must be validated. The following dialogue appears for this purpose.
Only employees with an email address associated with a valid email domain can register automatically. You can define valid email domains in the customers tab, in the registration section.

After you have deposited your customer's email domain, your customer's employees are able to register directly from the start page of your portal. By entering the corresponding email address and name, employees will automatically receive access to the portal. As portal operator, you will be informed about the addition of any new employee to the portal.
Email communication
The email sent to your customer is shown below: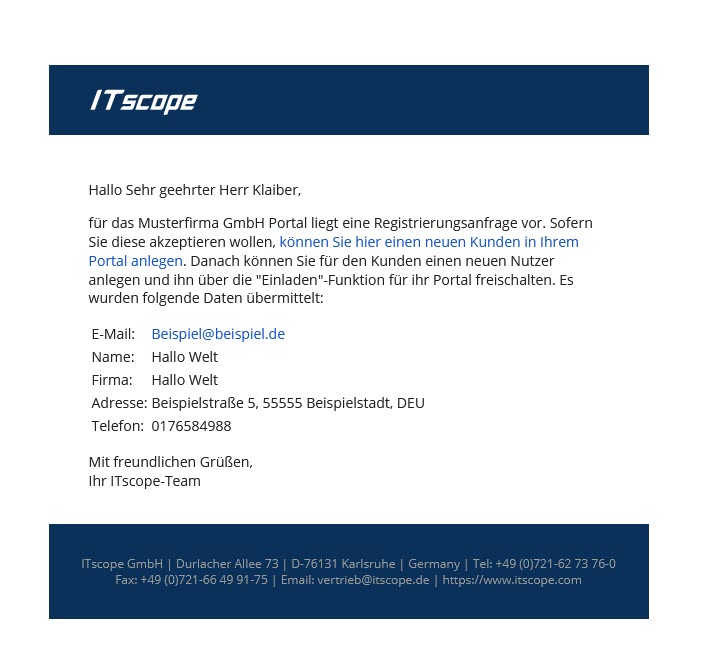 After an employee has registered using your portal login page, you will receive an automated email from ITscope asking you to add (i.e. authorise) this employee. This email is sent to all your colleagues also assigned to this particular portal.

This notification email is activated by default, meaning an email is sent for each new registration. Currently, it is not possible to deactivate this feature. If the company does not yet exist as a customer, you will be asked to add the company accordingly in the portal. If the company has already been added as a customer, then it is enough to confirm the employee registration in the customers tab using the 'invite' function.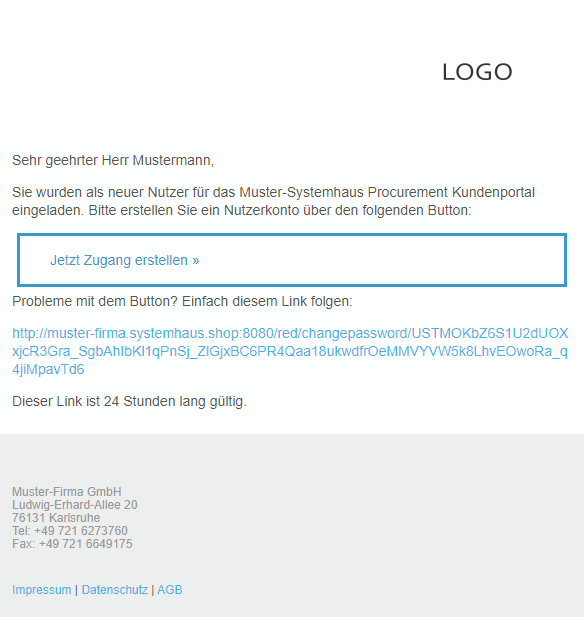 Your customer will then receive an email from your portal requesting them to create the account.
ITscope will also send you a final registration confirmation email. The new user has now been registered successfully.