The product list allows you to create a list of ITscope catalogue products for which a fixed price can be set, if required. These fixed prices then override the margin calculation for the corresponding products.
Product lists can also be used locally or globally.

A fixed price defines an absolute price that is valid for this product. The price of the product from all suppliers is replaced by this fixed price. Stock levels are taken from the sources of supply.
It is still possible to anonymise sources of supply, e.g. as 'Supplier A' or 'Supplier B'. The anonymisation of the source of supply applies to all products.
Products must be added individually to the product lists. It is important to carefully set fixed prices, as these override the margin calculation for products and the entered price is shown as the net retail price (RP). 

The WSP is displayed according to your procurement prices on the ITscope platform. To find out your exact WSP, navigate to the product page by viewing the product on the ITscope platform. You can then select 'View price calculation' and trace the origin of the WSP.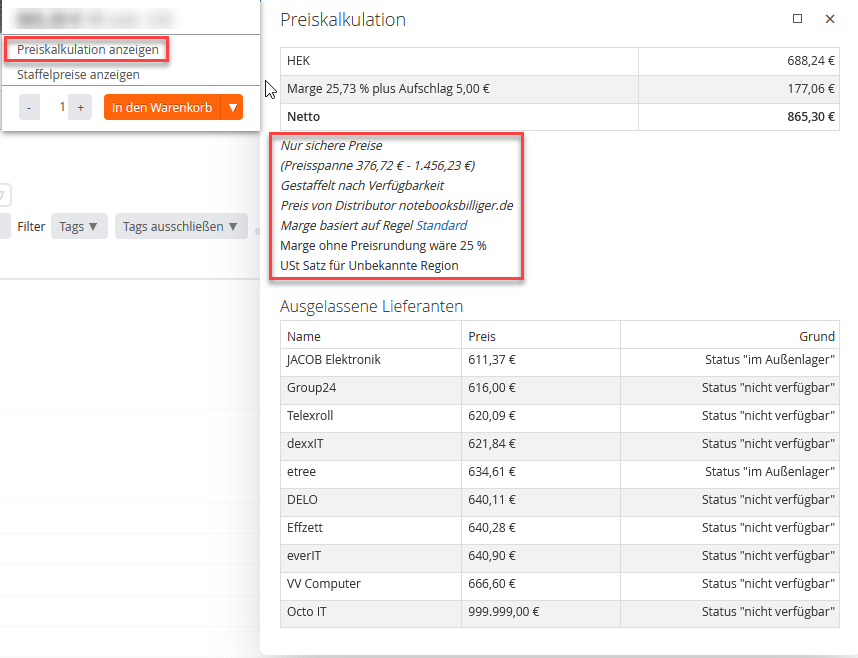 By importing a CSV file, multiple products can be added to the list in one go.
Caution! The CSV file must have a specific format – see the screenshot.

Clicking 'Import from CSV' will open the following dialogue: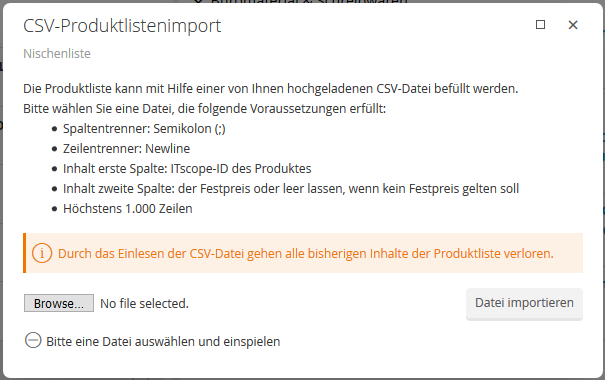 As a prerequisite, the CSV file must have the format described in the dialogue. Only the ITscope product ID may be used as product reference (EANs and manufacturer numbers are not supported). After uploading a file, it will be checked for conformity before it is imported. In this process, the current content of the product list is removed and replaced with the products (and fixed prices) referenced in the CSV file. Errors during importing will be presented in a separate dialogue, so you can check your input file again and correct the file if necessary.
This import is limited to a maximum of 1000 products, as product lists with too many entries lead to lower performance. For larger product selections, it is advisable to upload a product file instead.