Function
The order (credit) limit feature allows you to limit the order value that can be ordered by your customers. All orders that have not been sent or invoiced count towards this order limit.
After an order has been placed in the portal, the order limit will be checked. If the limit is exceeded due to the order that has been placed, then this order is set to 'blocked' status. This will always be the case irrespective of whether order automation has been configured or not. Additionally, the order will be stopped and will not be carried out automatically if an order automation has been set up.
Set an order limit – global
The global order limit can be defined in the portal administration, in the order service section and applies to all customers.

'€-.–' is the standard setting and implies that no limit has been set.
It is worth noting that the limit will also apply if a value of €0.00 is entered, meaning all orders will be blocked.
Set an order limit – customer-specific
In addition to a global limit, it is also possible to set customer-specific order limits. This can be done in the 'account' section of the respective customer.
Please note that a globally set limit cannot be deactivated for individual customers. A global limit can only be overwritten by entering a different value.
Notifications
The buyer will still receive an acknowledgement of order receipt email. No extra email notification is sent if the order is blocked. Instead, the buyer can see the 'blocked' status on the purchasing board or in the detailed order view.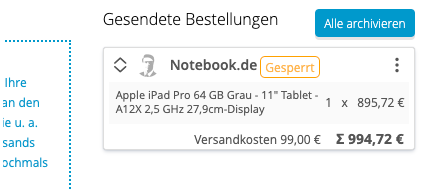 The portal operator will be informed via email that an order has been blocked.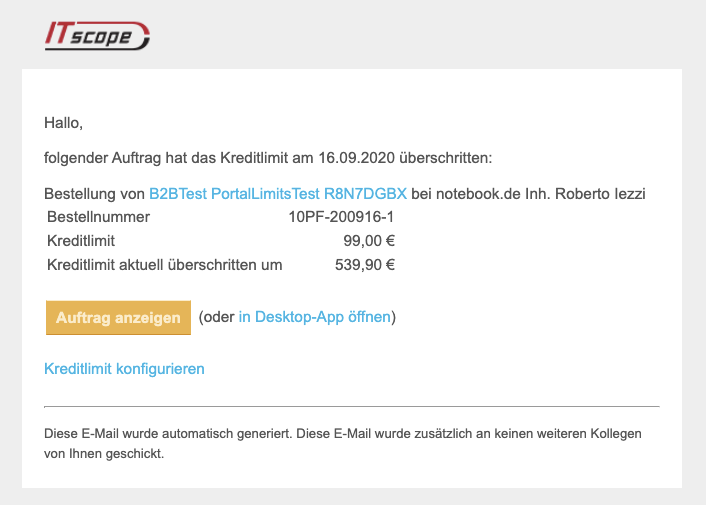 Links will be provided in the email to allow direct access to the affected order or customer. You will then have the option to approve the order upon checking it.