In this view, you have the option to add individual products and/or free text line items to your quote (1).

The address of the recipient can be edited or corrected (2). The quote status is initially set to 'draft' (3), the status will change depending on the progress of the quote.
There are various company-wide settings (4) that can be preset, such as the configuration of a general template for quotes (e.g. spacing of page margins), a notification function and the possibility to upload your company's letterhead. Clicking the 'Print' button automatically generates a PDF for the quote.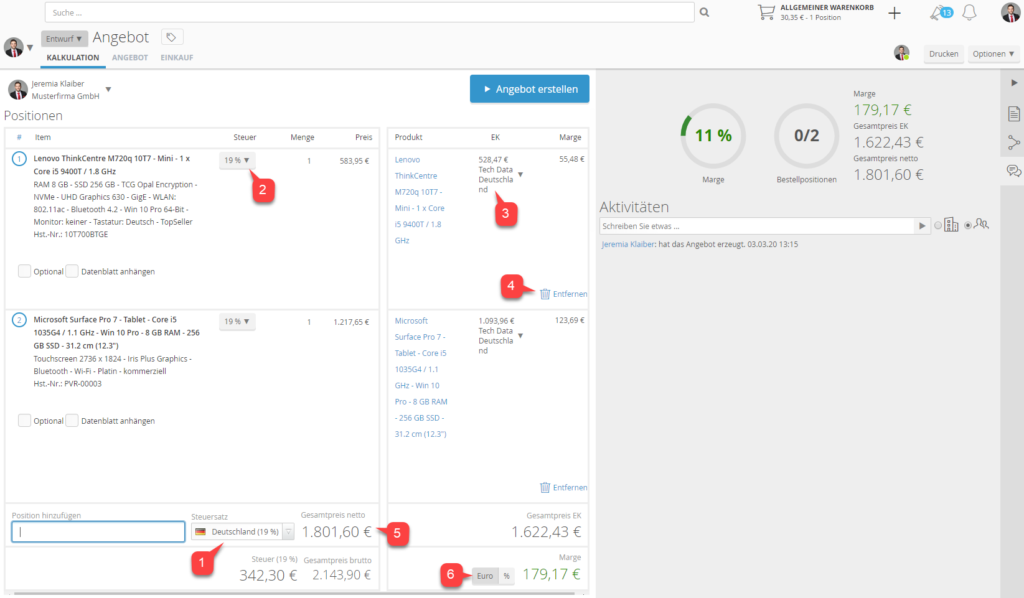 Define the generally applicable tax rate (1) and item-related tax rate (2). On the right-hand side you can select the desired supplier for ordering the product (3).
Individual items can be deleted (4).
Surcharge and discount line items can be added and calculated automatically by adjusting 'Total net price' (5). A surcharge line item will not be displayed in the quotation view for the customer, whereas a discount line item will be displayed.
The margin can be displayed in Euros and % (6). It is shown under point (6) and also on the right in the activities section. This provides a useful overview of how many products your quote contains, as well as the resulting margin.