Individual price list
Your individual BYTEC Bodry price list should contain the following standard parameters defined by the distributor:
| | |
| --- | --- |
| Parameter | Setting |
| Separators | ; (semicolon) or \t (tab) |
| Column headers | NO |
| Column header (item number) | COLUMN 1 |
| Column header (price) | COLUMN 7 |
| Price list link (example) | https://b2b.bytec.de/edi/csv/123456-xxxxxxx.txt |
Required information to configure the price list in ITscope:
Username
Password
Price list link (full link for retrieving your individual price list)
The required price list link (incl. access details) must be requested in writing from the distributor. Please send an email to your contact person from the distributor's sales department to do this.
Important note: the username and password are not the same as your login details for the distributor's online shop!
Once you have received the price list link, the following steps are needed:
In the 'My account' –> 'Price list' tab, enter your supplier access details (price list username, price list password, price list link), in order to be able to see your individual prices in ITscope

After activating these settings, your individual price list will automatically be retrieved. Within a few seconds, you will be able to see the status of the retrieval.

Here is the direct link to the BYTEC Bodry configuration page on ITscope, also shown in the following screenshot: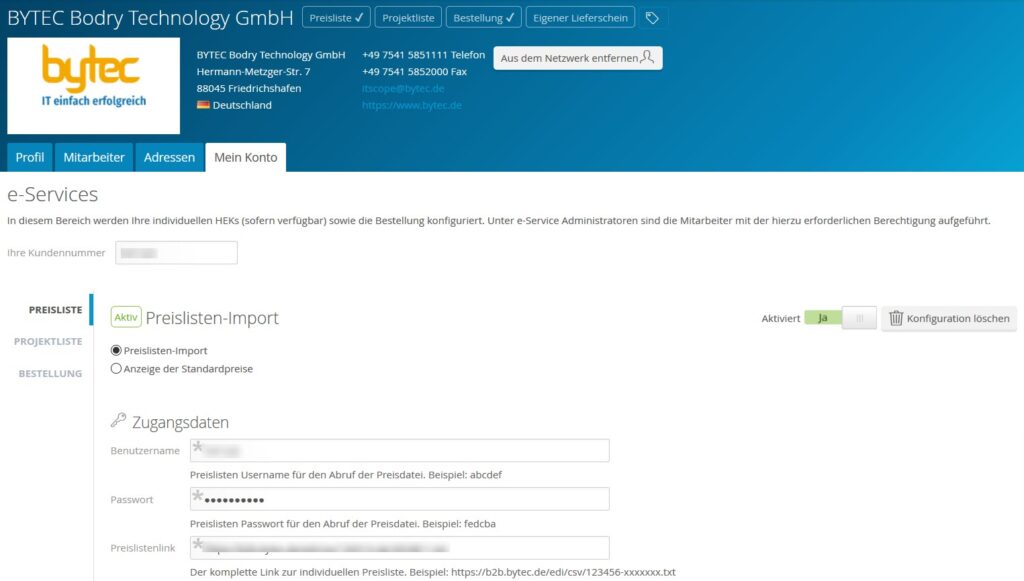 Project list
For the supplier BYTEC Bodry Technology GmbH, a project list import is available as a price display option:
Once you have added the supplier to your network in ITscope, the project list can be activated.
Information required to configure the BYTEC Bodry project list in ITscope:
Project list file name (file name or price list link provided by the distributor)
The necessary access details can be obtained from your BYTEC Bodry sales contact person. You can also contact itscope@bytec.de if you have any further questions.
Use this link to directly open the project list configuration tab on ITscope: BYTEC Bodry project list.