Requirements
An account for the German Ingram Cloud marketplace (https://cp.de.eu.cloud.im/) or for the Austrian Ingram Cloud marketplace (https://cp.at.eu.cloud.im/) is required. In order to be able to connect to the marketplace via ITscope, you also need an active API key or subscription key. You can find out how to request this on the Ingram Micro help page.
Import price list
Configuration
As of 24/11/2021, you are able to find Ingram Micro Cloud Deutschland and Ingram Micro Cloud Österreich as distributors on ITscope. In order to see the prices of products from Ingram Micro Cloud, you must add them to your network and enter a corresponding configuration under My account – Price list. If no configuration is active yet, activate the price list import feature via the button on the right-hand side of the screen.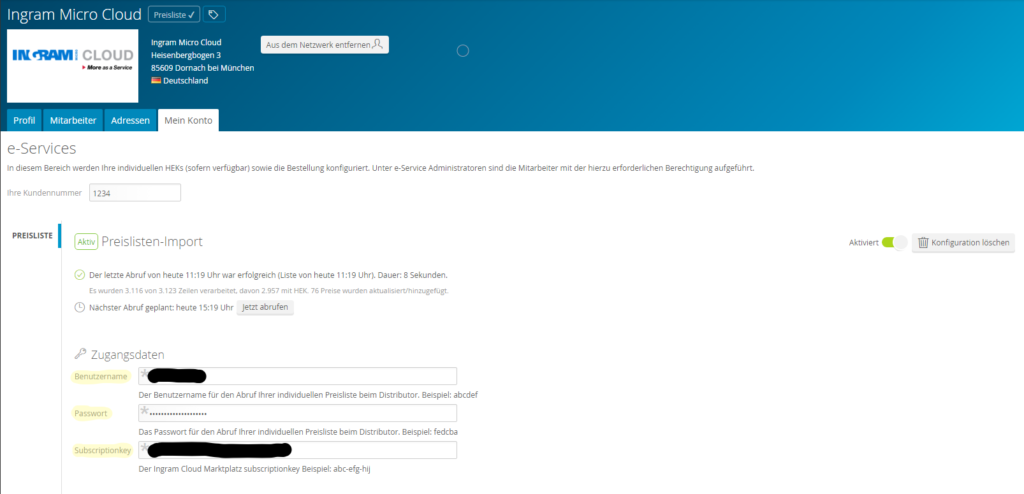 To access the price list, fill in the form marked in the image above with the following details, which were also mentioned in the Requirements section above:

Password: the password of the API user for the Ingram Cloud marketplace. If you do not know your password, you can reset it in the user administration section of Ingram Cloud. The email for resetting the password is sent to the email address on file for the API user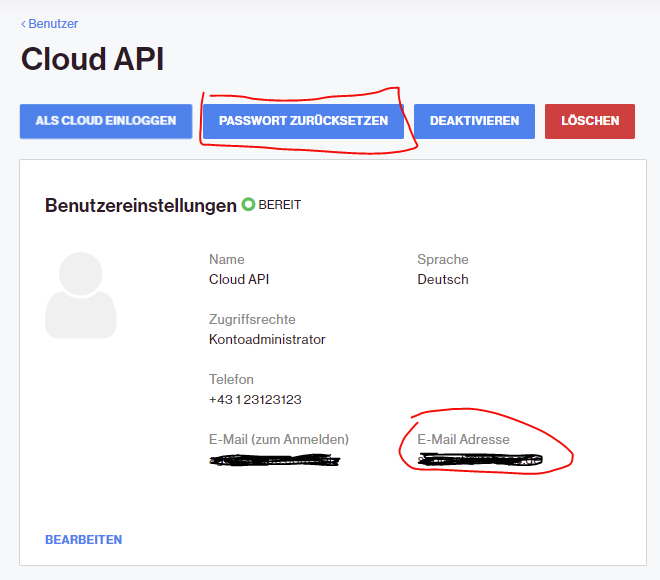 To test the retrieval, use the Retrieve now button at the top of the configuration screen. If the retrieval was successful, this will be confirmed a few seconds later and Ingram Cloud prices should be visible to you on the platform. If the retrieval fails or other problems occur during the configuration, please contact support@itscope.de.
Order connection (Beta)
Configuration
To activate the order function, proceed in the same way as when setting up the price list. First activate the feature by clicking on the Order tab, and then select the button in the upper right-hand corner of the screen to activate the feature.
Afterwards, you must once again add the following access details, same as with the price list:
Username: the Ingram Cloud marketplace login alias (email address) of the API user (see Ingram Cloud's help page)
Password: the password of the API user for the Ingram Cloud marketplace
Subscription key: your Ingram Cloud marketplace API key (see Ingram Cloud's help page).
General settings can then be configured, similar to other order connections. Once you have successfully entered the required access details, you will have two new options:
Products from the Ingram Micro Cloud price list are now available for direct order
A new Subscriptions menu item appears in the main menu. This enables you to view and manage all current subscriptions.